MHPS Receives Order for DeNOx System For Thermal Power Plant in Poland -- Enabling Compliance with Tightening European Emissions Controls --
Yokohama, September, 19, 2014 -- Mitsubishi Hitachi Power Systems (MHPS) has received an order from ENEA Wytwarzanie S.A., a power producer in Poland, for two sets of selective catalytic reduction (SCR) type deNOx system for installation at Units 1 and 2 of the company's Power Station in Kozienice. These high-performance systems reduce emissions of NOx (nitrogen oxides), a cause of air pollution, by more than 80 percent. They are scheduled to go into operation at Unit 1 in late 2015 and at Unit 2 in May 2016.
The Power Station in Kozienice, located some 85 kilometers south-southeast of Warsaw, is one of Poland's largest coal-fired power plants. Units 1 and 2 have an output of 200 megawatts (MW) each. The new equipment will enable the power station to satisfy European regulations on thermal power plant emissions that are slated to be tightened in 2016, ensuring the Power Station's in Kozienice stable and continuous operation throughout the year.
The deNOx system on order features high-performance plate-type catalysts independently developed by MHPS. They achieve outstanding NOx removal efficiency to meet the needs of a wide range of operating loads. MHPS will be in charge of all aspects from designing and manufacture to test operation. Civil engineering and installation work will be subcontracted by Erbud S.A., a local construction firm.
Prior to receipt of this order, MHPS (then Babcock-Hitachi K.K.) has been progressively supplying flue gas desulfurization (FGD) system, which remove sulfur oxides (SOx), to the ENEA Wytwarzanie Power Station since 2001. MHPS has been selected to provide five FGD systems, including two units currently being built, enabling to treat flue gas from all eleven of the power plant's units. For Unit 11, MHPS has received an order for a 1,000 MW ultra-supercritical pressure coal-fired power plant now under construction. The new order for deNOx system reflects the high evaluation accorded by ENEA Wytwarzanie to the performance demonstrated by these previously installed FGD systems and deNOx system for Siekierki Power Station (110MW x 4) - the first deNOx system supplied to Poland by MHPS.
Going forward MHPS will continue to proactively propose its high-efficiency deSOx and deNOx systems to the global markets, particularly in Europe where demand is expected to increase in tandem with tightening restrictions on emissions. In this way the company aims to make significant contributions to enabling steady power supplies while simultaneously reducing environmental loads.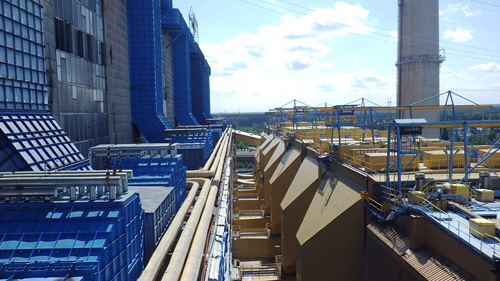 ---