MHPS Completes World-class Combustion Test Facility For Boilers Used in Thermal Power Generation Systems -- Integrating Combustion Technologies of MHI and Hitachi --
Yokohama, October 22, 2014 - Mitsubishi Hitachi Power Systems, Ltd. (MHPS) today completed the construction of a combustion test facility for boilers used in thermal power generation applications. Located on the premises of Mitsubishi Heavy Industries, Ltd.'s (MHI) Nagasaki Research & Development Center, the new facility is equipped with the cutting-edge measuring/monitoring systems and has one of the world's largest capacities: 4 tons of coal combustion per hour. By integrating the combustion technologies of MHI and Hitachi, Ltd. (including those formerly held by Babcock-Hitachi K.K. (BHK)), the new combustion test facility was built to achieve more advanced combustion technologies - the core factor in boiler business - in terms of lower emissions of nitrogen oxides (NOx), less unburned combustibles, lower excess air ratio, etc.
To mark the completion of the new combustion test facility, a ceremony, including the boiler's first lighting, took place. Representing MHI for the occasion was Toshio Kodama, Executive Vice President and Chief Technology Officer (CTO) serving as head of the Technology & Innovation Headquarters and ICT Solution Headquarters. Among those on hand to represent MHPS was Senior Executive Vice President Yozaburo Mabuchi.
The newly completed combustion testing facility for thermal power generation boiler has achieved two goals: 1) accurate simulation for both combustion condition and fluid condition inside a real boiler furnace, and 2) enhanced functions to support cutting-edge technological development, including more sophisticated measurement equipment to evaluate combustion and fluidity. The facility can accommodate a wide variety of fuels actually used in boilers, including bituminous coal, subbituminous coal, lignite, anthracite, biomass, oil, coke and residual oil. By significantly improving combustion evaluation capability for inexpensive low-grade fuels, the new testing facility will contribute to reducing fuel costs, enhancing availability and easing environmental impacts - the foremost needs of boiler users.
The new facility can be used for both boiler types MHPS offers: the circular firing type of MHI, and the opposed firing type of Hitachi (BHK). MHPS promotes to achieve higher performance for both types of boiler as well as to develop new type boiler and new combustion method based on the synergy effects.
The current status for boiler market shows an expansionary trend by increasing installations of new thermal power plants or refurbishments both in Japan and overseas, on the other hands, customers are increasingly shifting to low-cost fuels in order to reduce their fuel costs. MHPS has continuously developed various technologies to handle low grade fuels. The company will accelerate development activities to seek higher performance in combustion technologies by applying the new combustion test facility, and will build up positive business action in the expanding market.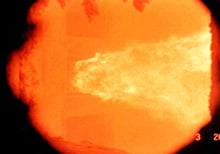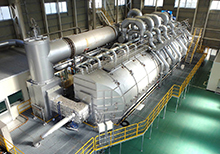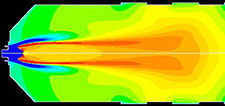 ---