MHPS Receives Order for GTCC Power Generation System Adopting Latest M501J Gas Turbine for Cogeneration Power Plant in Korea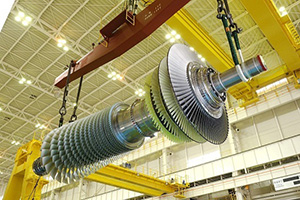 Yokohama, December 8, 2014 -- Mitsubishi Hitachi Power Systems, Ltd. (MHPS) has received an order for a gas turbine combined cycle (GTCC) system for the Chuncheon Cogeneration Power Plant being built by Chuncheon Energy, a special-purpose company backed by capital investments from Korean companies including POSCO Engineering & Construction Co., Ltd. (POSCO E&C) and Korea East-West Power Co., Ltd. (EWP). The GTCC system on order is a high-efficiency configuration featuring a state-of-the-art M501J gas turbine and generating an output of 470 megawatts (MW). Together with Mitsubishi Corporation, a consortium partner, the system will be delivered to POSCO E&C, responsible for the EPC (engineering, procurement and construction) of the project. Operation is slated to commence in May 2017. The newly received order brings the total number of M501J gas turbines ordered in Korea to 14.
Chuncheon, the city where the cogeneration plant will be constructed, is located approximately 100 kilometers east of Seoul, the capital. Once on line, the new plant will supply power to an industrial park being newly developed, and it will also respond to demand for heat for district heating in a nearby new residential area.
In addition to the M501J gas turbine, the GTCC system will also include a SRT-50 steam turbine, a heat recovery steam generator, a generator, etc. MHPS will manufacture and supply the gas turbine, steam turbine and other key components. Plans also call for conclusion with Chuncheon Energy of a Long-Term Service Agreement (LTSA). Once the GTCC system goes on line, MHPS will maintain and manage the gas turbine and other components, supply replacement parts, and perform remote monitoring to support the system's stable and efficient operation.
The M501J is MHPS's newest model gas turbine. As a unit, the M501J has already recorded 18,000 hours in operation, while collectively all operating units have clocked over 70,000 hours. In reflection of their achievement of the world's highest level of operating efficiency, orders from both the Japanese and global markets have been expanding since the model was launched in 2009. To date a total of 14 units have been ordered in Korea, making the total J-Series gas turbine fleet, including orders for M701J, to 31 units, 12 units of which are already in operation. The latest order owes to the high marks given to these high-efficiency models' superior performance, reliability and track record in actual operation.
GTCC is the cleanest and most efficient power generation system running on fossil fuel. Besides the power generated by the gas turbine, in a GTCC system high-temperature waste gas is used to drive a steam turbine, producing additional power, while part of the steam can also be used to supply heat. The combined result is a system that makes extremely efficient use of fuel, enabling efficient energy usage and contributing to reduction of environmental loads. When utilizing the J-Series gas turbine in a GTCC system, CO2 emissions can be reduced by approximately 50 percent compared to traditional coal-fired power generation systems.
Going forward, MHPS will redouble its efforts in contributing to efficient use of natural resources and easing the environmental burden by winning market support for its GTCC power generation system integrated with the latest J-Series gas turbines.
---