Mitsubishi Hitachi Power Systems Concludes CPA with Saudi Arabian Oil Company, Including Long-Term Service Agreement for M501F Gas Turbines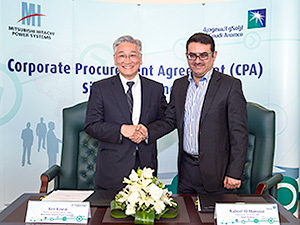 Yokohama, December 10, 2014 -- Mitsubishi Hitachi Power Systems, Ltd. (MHPS) has concluded a Corporate Procurement Agreement (CPA) with the Saudi Arabian Oil Company (Saudi Aramco), the largest national oil company in the world, to provide equipment and associated services, spare parts and long-term servicing of gas turbines installed at Saudi Aramco's gas and oil plants. Based on a 14-year, long-term service agreement (LTSA), MHPS will contribute to stable, high-availability operation of facilities by providing maintenance, management, parts supply, parts repair and remote monitoring services for the gas turbines that are a core component of Saudi Aramco's oil and gas plants.
Services will be provided through MHI Power Systems Saudi Arabia Co. LLC (MPS Saudi), a group company in the Kingdom of Saudi Arabia established in 2013. To date, a total of 11 units of the M501F gas turbines have been delivered to Saudi Aramco by Mitsubishi Heavy Industries, Ltd., commencing with 2 units for the 151 MW (megawatt) Berri Gas Plant delivered beginning in 2004.
Saudi Aramco is the world's largest national oil company in the Kingdom of Saudi Arabia. In addition to supplying hydrocarbons worldwide, the company provides hydrocarbons to domestic industries for production of various kinds of oil- and gas-based products.
In response to the newly concluded CPA, MHPS has established and will build a service center capable of providing swift, high-quality services, including repair equipment for hot gas path components -- core elements of gas turbines. With these initiatives, MHPS will be able to make significant contributions to the development of the Kingdom of Saudi Arabia.
In recent years, power producers have begun seeking long-term maintenance services in order to ensure stable and reliable operation of their plants, and they are increasingly opting for LTSA contracts. Going forward, MHPS will continue to regard LTSA contracting as a pillar of its service business, and will strive to respond even more precisely to the market's diversifying needs with the most cost-efficient and reliable systems.
---