MHPS Signs Power Plant Operation and Maintenance Services MOU With Uzbekenergo, State-owned Power Provider in Uzbekistan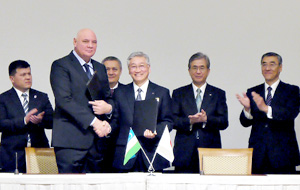 Yokohama, February 2, 2015 -- Mitsubishi Hitachi Power Systems, Ltd. (MHPS) has signed a memorandum of understanding (MOU) with State Joint Stock Company Uzbekenergo of Uzbekistan under which the two firms will collaborate in the area of power plant operation and maintenance (O&M). The MOU calls for MHPS to provide O&M support and related services for power plants owned by Uzbekenergo. The agreement was reached as an outgrowth of ongoing joint economic talks between Uzbekistan and Japan aimed at promoting bilateral trade and economic development.
A signing ceremony for the MOU was held at the 12th Uzbek-Japanese Economic Cooperation Forum in Tokyo. The signatories were Ken Kawai, MHPS Senior Vice President and Senior General Manager of the Power Systems Service Headquarters, and Iskandar Basidov, Chairman of the Board at Uzbekenergo. Also in attendance at the ceremony were the co-chairpersons of the Uzbek-Japanese Committee for Economic Cooperation: Rustam Azimov, Uzbekistan's First Deputy Prime Minister and Minister of Finance, and Mamoru Sekiyama, Vice Chairman of Marubeni Corporation.
The newly concluded MOU cover three areas: power plant O&M, technical training of engineers, and organization of technical seminars. Specifically, MHPS will provide O&M support to two power plants (Navoi and Talimarjan) and a cogeneration plant (Tashkent) to which the company has previously supplied gas turbines and other core equipment. MHPS will also provide technical training to Uzbekenergo's engineers in both Uzbekistan and Japan. The company will hold technical seminars periodically to make Uzbekenergo familiar with the latest technologies and share information relating to O&M of gas turbine combined cycle (GTCC) power generation plants.
Uzbekenergo is a state-operated power provider established in 2001 that today meets close to 100 percent of Uzbekistan's power needs. The company relies on three core fuel sources - coal, petroleum and natural gas - and generates a total of 48 million megawatts (MW) of power per year. Uzbekenergo has 53 subsidiaries and organizations under its corporate umbrella.
The Uzbek-Japanese Economic Cooperation Forum is a series of forums operated by a joint economic committee set up in 1994. The forums bring together numerous government officials from both countries to discuss issues such as bilateral trade and investment. The latest forum was the 12th to date.
Going forward MHPS looks to maintain and further develop its close relationship with Uzbekenergo as its way of contributing to stable and efficient power provision in Uzbekistan.
---