MHPS Receives Order for Refurbishment of Unit 4 At Hartha Thermal Power Station in Iraq Plant Rehabilitation to Make Solid Contribution to National Recovery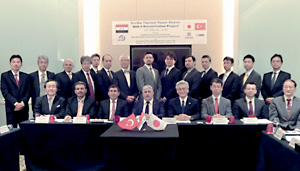 Yokohama, April 1, 2015 -- Mitsubishi Hitachi Power Systems, Ltd. (MHPS) has received an order from the Ministry of Electricity (MOE) of Iraq for refurbishment of Unit 4 (output: 200 megawatts) at the Hartha Thermal Power Station. The refurbishment work, scheduled for completion in May 2017, requires large-scale replacement of core components of the plant's seriously degraded power generation facilities. The project is being financed through a Japanese ODA (Overseas Development Assistance) loan extended to the Government of the Republic of Iraq.
The Hartha Thermal Power Station, which incorporates both gas- and oil-fired units, is located in the city of Basra in Iraq's south. The original power generation equipment was supplied by Mitsubishi Heavy Industries, Ltd. (MHI) in 1980, and for more than three decades it has played a vital role in providing power to the Basra region. But after three wars the original facilities had sustained partial damage as well as gradual degradation, so that today Unit 4 is operating at only some 40 percent of its rated capacity. The newly ordered refurbishment work will restore the unit to its original rated output as a way of contribution to Iraq's recovery.
The rehabilitation project will consist of replacing Unit 4's core equipment - boilers, steam turbines and generators - plus introducing a state-of-the-art distributed control system (DCS). These improvements will significantly enhance the plant's reliability. Installation and other work at the site will be performed by GAMA Power Systems Engineering and Contracting, Inc., an engineering firm headquartered in Turkey.
Besides MHI's earlier involvement in the Hartha Thermal Power Plant, Hitachi, Ltd. - MHI's partner in the integration of thermal power generation systems business that resulted in MHPS's founding - also has a long track record in Iraq, having taken part in refurbishment projects for MOE at thermal power stations in Taji, Al-Musaib and Mosul.
Through the newly ordered refurbishment work at the Hartha Thermal Power Plant, MHPS will make a further contribution to restoring Iraq's domestic power supply capability. Going forward, MHPS will continue to cooperate in achieving stable power supplies and enhancing generating efficiency, as a way of contribution to Iraq's economic and social recovery.
---