MHPS Changes Name of High-efficiency Gas Turbine in 100MW Class From H-80 to H-100, to More Accurately Reflect its Capacity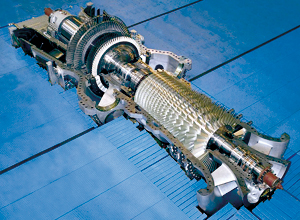 Yokohama, April 22, 2015 -- Mitsubishi Hitachi Power Systems, Ltd. (MHPS) is changing the name of its H-80 gas turbine, a high-efficiency model with a rated capacity in the 100-megawatt (MW) class, to "H-100" in order to more accurately reflect its actual output capability. No changes will be made to the product's specifications, and it will continue to deliver superlative efficiency, reliability, operability and low lifecycle costs.
The H-100 is a high-efficiency, heavy-duty, high-reliability and low-maintenance gas turbine offering output in the medium range. Originally the H-80 designation was adopted because the turbine was targeted primarily at the replacement market in the 80MW class. MHPS decided to change the unit's name in order for users and potential users to easily and clearly understand that the gas turbine in fact has a rated capacity in the 100MW class.
The H-100 provides adaptability to a broad range of applications. Besides delivering outstandingly efficient power generation as the core of both simple-cycle and combined-cycle power generation systems, the H-100 is well suited to co-generation systems. It has also been highly recognized to serve as a "drop in" replacement for older vintage, less efficient, heavy frame gas turbines and for the important role it can play for mechanical drive applications such as air compressors in petrochemical plants, etc.
Another feature of the H-100 is its lots of advantages derived from its package design. Because it can be shipped from a quality-controlled factory as a finished product, installation and other work at the construction site are simplified and erection period is shortened. The H-100's compact modular design also enables a short delivery schedule and flexible layout at the site.
In addition to the H-100, MHPS's H series of gas turbines in the small to medium-scale range currently includes the H-25 as well, which offers an output range from 28MW to 42MW. H Series has been well received in the market, with combined orders to date now reaching 199 units and cumulative operation time exceeding 5 million hours. MHPS's H-50, a gas turbine in the 50MW class, has been undergoing verification at a pilot plant since 2012, and following operation at a demonstration plant the company aims to launch the H-50 into the market in 2016.
Today, against the backdrop of rapidly expanding adoption of renewable energies, the market is demanding thermal power generation systems of ever-greater operability. In view of this market trend, going forward MHPS looks to offer optimal solutions involving medium-scale gas turbines all the more vigorously, as its way of contributing to stable power supplies and reduced environmental burdens, and by extension, to the economic development of countries and regions around the world.
Product Information :
---