MHPS Receives Order for 2 M501J Gas Turbines and a Steam Turbine at New Pyeongtaek GTCC Power Plant in Korea -- Cumulative J Series Gas Turbine Orders from Korea Reach 16 Units --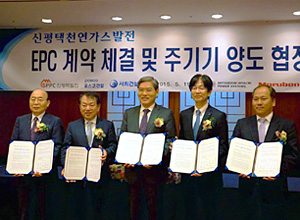 Yokohama, May 22, 2015 -- Mitsubishi Hitachi Power Systems, Ltd. (MHPS), jointly with Marubeni Corporation, has received an order for two M501J gas turbines and a steam turbine for the new 950 megawatt (MW) class LNG-fired Pyeongtaek Combined Cycle Power Plant to be built by Shin Pyeongtaek Power Co., Ltd., a special purpose company (SPC) established by Korea Western Power Co., Ltd. (KOWEPO), GS Energy Corporation and other companies. In addition, MHPS signed a long-term service agreement (LTSA) for the gas turbines, which are core components of natural gas-fired, gas turbine combined cycle (GTCC) power plants. The turbines will be supplied to a consortium led by POSCO Engineering & Construction Co., Ltd. (POSCO E&C) and SEOHEE Construction Co., Ltd. that is charged with engineering, procurement and construction (EPC) of the plant. The plant is slated to commence operations in November 2019. The newly received order, on the heels of order from Chuncheon Energy in December 2014, brings the total number of M501J gas turbines ordered in Korea to 16.
Shin Pyeongtaek Power will build the new LNG-fired Pyeongtaek Power Plant in Pyeongtaek, Gyeonggi-do, which is approximately 80 kilometers south of Seoul. Once on line, the power generated at the plant will be sold to Korea Power Exchange (KPX) and serve to support power demand in the capital and the surrounding area.
The new GTCC plant will mainly consist of two M501J gas turbines, a steam turbine and a generator, of which MHPS is responsible for manufacture and supply of gas and steam turbines, plus dispatch of engineers to provide guidance at the construction site. Under the terms of the LTSA, MHPS will also provide parts, repairs, maintenance services for the gas turbines and other equipment, as well as remote monitoring of vital operating data to support stable operation going forward.
J-Series gas turbines achieve the world's highest level power generation efficiency and are the newest and most advanced turbines that MHPS offers. Orders from both Japanese and global markets have continued to grow since the J Series was launched in 2009, with a total of 38 units ordered to date, including orders for 50 hertz M701J gas turbines, 17 units of which are already in operation. Collectively, J-Series gas turbines have logged over 126,000 hours of operational service. This latest order owes much to the acclaim that these high-efficiency models have received for their superior performance, reliability and track record in actual operation.
Power plant construction projects in Korea involving heavy-duty gas turbines have increased in recent years, making the country one of MHPS's most important markets. Collective power output of such projects has reached 13 GW (gigawatts) in the past five years, of which MHPS has been awarded 8.5 GW, about two-thirds, making it the largest supplier of gas turbines to the Korea market.
GTCC is the cleanest and most efficient fossil fuel power generation system. Besides the power generated by the gas turbine, a GTCC system produces additional power by using high-temperature waste gas to generate steam to drive a steam turbine. The result is a system that makes extremely efficient use of fuel, enabling efficient energy use and contributing to a reduction in environmental load. By utilizing a J-Series gas turbine in a GTCC system, CO2 emissions can be reduced by approximately 50percents compared to traditional coal-fired power generation systems.
Going forward, MHPS will further strengthen marketing activities for J-Series gas turbines and GTCC power generation systems to reduce environmental load and win broader market support for the efficient use of natural resources.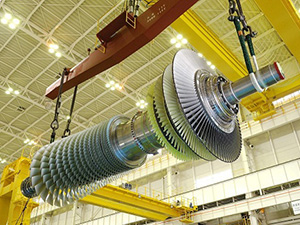 ---