MHPS Receives Order for H-25 Gas Turbine For Cogeneration GTCC Plant in Belarus -- New System to Support both Power and Heat Demand --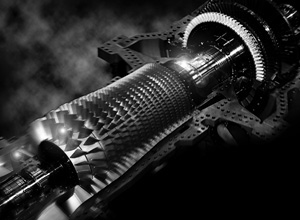 Yokohama, September 14, 2015 -- Mitsubishi Hitachi Power Systems, Ltd. (MHPS) has received an order for a gas turbine with a power output of 26 megawatts (MW) from China Machinery Engineering Corporation (CMEC), the company responsible for EPC (engineering, procurement and construction) of a cogeneration gas turbine combined cycle (GTCC) power plant project under way in Belarus by that country's RUE (Republican Unitary Enterprise of Power Industry) Gomelenergo. The turbine is scheduled to go into operation in June 2017.
The GTCC project, which is being financed by the World Bank, calls for the refurbishing and modernization of the existing Gomel Combined Heat and Power Plant (CHP-1) located in the city of Gomel, some 300 kilometers southeast of the capital, Minsk, with the aims of increasing the plant's power generation and heat supply capabilities while simultaneously achieving energy savings at the national level. The newly ordered gas turbine, model H-25, will form the core of the upgraded cogeneration facility.
Besides the H-25, the GTCC plant will incorporate a steam turbine, waste heat recovery boiler, generator and auxiliary equipment. MHPS will be in charge of manufacturing and supplying the gas turbine and also dispatching engineers to the site to provide direct guidance and instruction.
Gomelenergo is a regional enterprise subordinate to the State Production Association of Electric Power Industry (SPA "Belenergo") (Belarus). The company's scope of operations includes power generation, transmission and distribution, and heat supply.
CMEC is one of China's leading state-owned engineering firms. Its core business is power operations in approximately 50 countries and regions worldwide, and it also provides EPC services for a broad spectrum of infrastructure projects including railways and expressways.
The H-25 gas turbine is a heavy-duty system delivering superlative operating efficiency and high reliability with minimal maintenance requirements. The new order from Gomelenergo was placed in recognition of the turbine's outstanding performance as well as MHPS's abundant track record in orders received since 1987: collectively more than 170 units from customers in Japan and other countries.
MHPS has an advantageous position within its industry by virtue of its capability to offer a full range of products for thermal power general systems, enabling the company to provide its customers a total portfolio of power solutions. Going forward, the company will continue to respond to a wide array of user needs by providing stable power supplies while simultaneously reducing environmental burdens, thereby contributing to the economic development of countries and regions worldwide.
---