MHPS Receives Order for 2 Sets of H-25 Gas Turbine and Generator For Chemical Company in Turkmenistan -- To Serve as Core of Co-generation System at New Fertilizer Production Plant --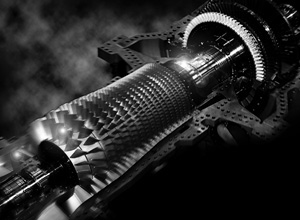 Yokohama, September 17, 2015 -- Mitsubishi Hitachi Power Systems, Ltd. (MHPS) has received an order for two sets of its natural gas-fired H-25 gas turbine and generator to be installed at a fertilizer production plant, which Turkmenhimiya, a state-owned chemical company in Turkmenistan, is building in the city of Garabogaz. The power generation system is scheduled to go on-stream in June 2018. The order marks the first H-25 gas turbine to be supplied to Turkmenistan.
The fertilizer plant is currently being constructed in the northwest region of Turkmenistan, on the coast of the Caspian Sea, by Mitsubishi Heavy Industries, Ltd. (MHI), jointly with GAP Insaat Yatirim ve Dis Tiscaret A.S., a Turkish construction company, and Mitsubishi Corporation. The plant will be one of the largest urea fertilizer production plants in the country. The two sets of gas turbine and generator on order, with a combined power output of 50 megawatts (MW), will serve as the core equipment of an in-house co-generation (combined heat and power supply) system to operate in the plant.
In recent years Turkmenistan has undergone steady economic growth sustained by its abundant reserves of natural gas, ranked 4th in volume worldwide. Today the Turkmenistan government is aggressively promoting development of high-value-added natural gas products as well as diversification of the country's gas exports and sales channels, and construction of the new fertilizer plant in Garabogaz is an integral component of these initiatives.
The H-25 is a high-reliability, low-maintenance, heavy-duty gas turbine. Since receipt of the order for the very first unit in 1987, to date more than 170 units have been ordered by customers in Japan and other countries.
MHPS offers a full range of products for thermal power generation systems, from small to medium-size gas turbine-based, energy-saving power generation systems for industrial use to high-end large-capacity systems, enabling the company to provide its customers a total portfolio of power solutions. Going forward, the company will continue to aggressively market its products both in the large-scale power generation market as well as in the industrial-use energy-saving power generation system market, with the H-25 gas turbine uppermost in its list of solutions. In these ways the company will respond to a wide array of user needs as it also makes solid contributions to the economic development of countries and regions worldwide.
---