MHPS Receives Order for H-25 Gas Turbine and Generator from Korea Petrochemical Ind. Co. -- To Serve as Power Generation Plant to Increase Ethylene Production --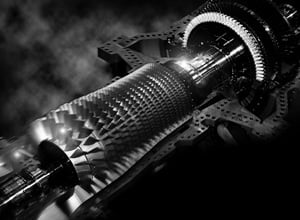 Yokohama, November 12, 2015 -- Mitsubishi Hitachi Power Systems, Ltd. (MHPS) has received an order for a gas-fired H-25 gas turbine and a generator from Korea Petrochemical Ind. Co., Ltd. (KPIC). The turbine and generator will be installed in an in-house power generation plant at KPIC's Onsan Plant, which produces ethylene, in Ulsan-Metropolitan City, an industrial city in southeastern Korea. KPIC is expanding power generation capacity at the plant in order to increase ethylene production. The power generation system on order is scheduled to go on-stream in June 2017.
MHPS received a previous order for the H-25 gas turbine for the Onsan Plant in 2006. The high-efficiency H-25 is capable of using the methane off-gas derived from the ethylene plant as fuel to operate the plant. Once the new power generation system goes on-stream, it will supply power mainly to help meet in-house demand, and also provide high-temperature exhaust gas to Naphtha Cracking Heaters as fuel air for energy saving. Plans call for the Onsan Plant's ethylene production capacity to increase from the current 470,000 metric tonnes per annum (mtpa) to 800,000 mtpa. Itochu Machine-Technos Corporation is handling the trade particulars.
The H-25 is a high-reliability, low-maintenance, heavy-duty gas turbine. Since receipt of the order for the very first unit in 1987, to date more than 170 units have been ordered by customers in Japan and around the world. The new order from KPIC was placed in recognition of the performance of the previously delivered H-25 still in operation at the Onsan Plant as well as MHPS's abundant track record in orders for the turbine.
MHPS offers a full range of products for thermal power generation systems, from small to medium-size gas turbine-based, energy-saving power generation systems for industrial use to high-end large-capacity systems, enabling the Company to provide its customers a total portfolio of power solutions. Going forward, the Company will continue to aggressively market its products both in the large-scale power generation market as well as in the industrial-use energy-saving power generation system market, with the H-25 gas turbine uppermost in its list of solutions. In these ways MHPS will respond to a wide array of user needs as it also makes solid contributions to the economic development of countries and regions worldwide.
---