MHPS to Promote Technical Exchanges in Thermal Power Generation with Korea Southern Power Co. (KOSPO) -- Ties also to be Strengthened with Korea's Yonsei University --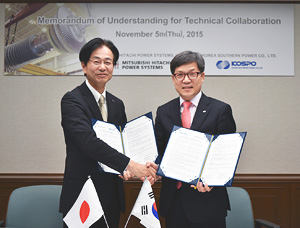 Yokohama, November 16, 2015 -- Mitsubishi Hitachi Power Systems, Ltd. (MHPS) has concluded a Memorandum of Understanding (MOU) with Korea Southern Power Co., Ltd. (KOSPO) of the Republic of Korea following agreement between the two companies to engage in exchanges of technology relating to thermal power generation. The aim of these exchanges is to promote technical collaboration and joint research between MHPS and KOSPO. The MOU also calls for technological liaison with Korea's Yonsei University, an academic institution with which KOSPO already enjoys a relationship of exchange.
The MOU was formally signed by Koji Hasegawa, Director and Senior Executive Vice President of MHPS, and Geun Tag Lee, Chief Technology Officer of KOSPO. Also in attendance at the ceremony, which took place in Japan, was Hyung Hee Cho, Professor in the Department of Mechanical Engineering at Yonsei University.
KOSPO is a power-providing subsidiary of Korea Electric Power Corporation (KEPCO), Korea's state-owned power utility. KOSPO and MHPS enjoy good relations, exemplified by MHPS's receipt this July of an order for a 470-megawatt (MW) natural-gas-fired gas turbine combined-cycle (GTCC) power generation system adopting the Company's latest M501J gas turbine, for installation at KOSPO's Youngnam Natural Gas Power Plant. Earlier, MHPS received orders for, and completed deliveries of, two steam turbines for Namjeju Thermal Power Plant and three M501F gas turbines for Yeongwol GTCC power plant; in the latter case, the equipment transfer was handled through Doosan Heavy Industries & Construction, a Korean recipient of MHPS's related technology.
In the years ahead MHPS will work closely with both KOSPO and Yonsei University to forge solid ties of cooperation in thermal power generation technologies, as the Company's way to make ongoing contributions to effective utilization of resources and easing of environmental burdens.
---