MHPS to Jointly Research and Develop New Gas Turbine Combustion and Measurement Technology with KEPCO Aiming at more efficient combustion of fuels with low calorific values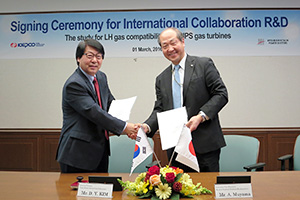 Yokohama, March 7, 2016 -- Mitsubishi Hitachi Power Systems (MHPS) has signed a joint research agreement on new combustion / measurement technology for gas turbines with Korea Electric Power Corporation (KEPCO). The two companies aim to develop new combustion technology that can use low calorific value fuel efficiently, in preparation for the introduction of low calorific value gases.
Kim Doo-Young, head of KEPCO's research center, and Akimasa Muyama, Senior Executive Officer at MHPS, previously signed the joint research agreement at the MHPS Head Office in Yokohama, Kanagawa Prefecture.
Previously MHPS and KEPCO signed a memorandum of understanding (MOU) to carry out initiatives such as annual technical exchange meetings and future joint research in November 2014. Up to now, in addition to holding technical exchange meetings between MHPS, KEPCO and the Korea Advanced Institute of Science and Technology (KAIST), the companies have studied specific joint research projects. The new joint research agreement has been concluded based on this MOU, and aims to blend MHPS's advanced design technologies with KEPCO's production technology to realize new concepts in combustion / measurement technology.
Specifically, the two companies will carry out joint field testing using MHPS's combustion chamber, taking advantage of the gas turbine combustion test facility at KEPRI, KEPCO's electrical power research institute. The study period is three years.
KEPCO is Korea's public utility, with six subsidiaries under its umbrella. In order to carry out R&D on the gas turbines it operates in Korea, KEPCO established a demonstration-scale gas turbine combustion test facility in August 2015. This facility advances combustion adjustment technologies and development of a combustion adjustment simulator. The companies plan to use this facility in their joint research.
Korea is one of the most important markets for MHPS. There are currently over 130 gas turbines for power generation in commercial operation in Korea. MHPS has supplied 55 of those units, including its state-of-the-art J-Series gas turbine, making it the market leader in the large-scale turbine market.
MHPS will continue its good relationship with KEPCO, contributing to stable and efficient power supply and the reduction of environmental impact.
---