Construction begun on Tanzania's first natural gas-fired combined cycle power plant
Sumitomo Corporation
Mitsubishi Hitachi Power Systems, Ltd.
Toshiba Plant Systems & Services Corporation
Sumitomo Corporation (head office: Chuo-ku, Tokyo; President & CEO: Kuniharu Nakamura), Mitsubishi Hitachi Power Systems, Ltd. (head office: Yokohama, Kanagawa Prefecture; President & CEO: Takato Nishizawa; hereinafter, "MHPS") and Toshiba Plant Systems & Services Corporation (head office: Yokohama, Kanagawa Prefecture; President & CEO: Ryo Matsukawa; hereinafter, "TPSC") have started construction on the Kinyerezi natural gas-fired combined cycle power plant, set to become the largest in the United Republic of Tanzania (hereinafter, "Tanzania") with a generation capacity of 240 megawatt, in accordance with an engineering, procurement and construction (EPC) contract concluded between Sumitomo Corporation and the state-run Tanzania Electric Supply Company Limited (hereinafter, "TANESCO").
The Kinyerezi power plant will be Tanzania's first natural gas-fired combined cycle power plant, and it is expected to provide nearly 20 percent of the country's total power generating capacity (about 1,500 megawatt). The construction site is located about 30 kilometer southwest of the former capital of Dar es Salaam.
Sumitomo Corporation as the prime contractor will coordinate all commercial affairs, MHPS will provide key equipment (six H-25 gas turbines and generators), and TPSC will supply heat recovery boilers, steam turbines and other equipment and undertake civil and installation works, as well as coordinate technical matters.
MHPS offers a wide range of gas turbines (from 30 megawatt to 470 megawatt) and has delivered these to numerous thermal power plants worldwide. TPSC has a long track record of engineering and constructing thermal power plants both inside and outside Japan, and its engineering and construction capabilities are held in high regard. The power plant is currently scheduled to go into partial operation at the beginning of 2018 and to be handed over to TANESCO in September 2018.
The project will cost a total of approximately 35 billion yen, the majority of which will co-financed by the Japan Bank for International Cooperation and a commercial bank (Sumitomo Mitsui Banking Corporation). Insurance for this commercial bank financing will be provided by Nippon Export and Investment Insurance.
With demand for electric power surging, Tanzania is suffering from chronic power shortages due to a decline in hydroelectric power generation, its primary power source. The country has resorted to using power-generating facilities leased at relatively high rates to serve as emergency power sources, giving rise to fiscal difficulties and making electric power development an issue of great urgency. Large-scale domestic natural gas fields have been discovered in Tanzania, and Tanzania is hoping to use the gas to nearly double its 2012 electricity generating capacity by 2018, when the Kinyerezi power plant is expected to be completed. This power plant will feature high-efficiency gas power generation that will help alleviate Tanzania's power shortages and boost its economic development. This project will also be utilized to play a key role in improving Tanzania's basic infrastructure, as a part of the "Partnership for Quality Infrastructure" being promoted by the Japanese government utilizing funding, insurance and technology from Japan.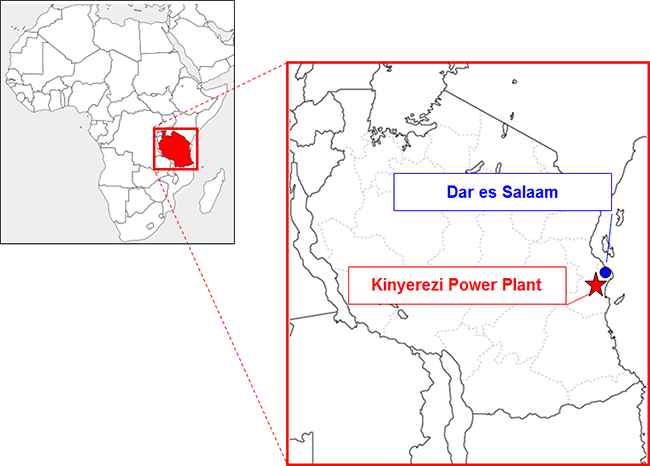 ---