Four-way Collaboration Agreed in Thermal Power Generation System Field Services in Indonesia -- MHPS, Pembangkitan Jawa-Bali, Indonesia Power and Mitsubishi Corp. --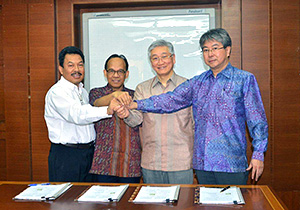 Yokohama, March 31, 2016 -- Mitsubishi Hitachi Power Systems, Ltd. (MHPS) has concluded an agreement on collaboration in the provision of field services for thermal power generation systems together with two Indonesian power providers - PT. Pembangkitan Jawa-Bali (PT PJB) and PT Indonesia Power - and Mitsubishi Corporation (MC). A formal signing took place in Jakarta on March 24. The aim of the collaborative undertaking is to strengthen field services in Southeast Asia and surrounding regions.
Based on the collaborative agreement, MHPS and its partners will perform field services, including dispatch of engineers to thermal power generation system sites, using staff from PT PJB and IP.
A formal signing ceremony took place on March 24 at Indonesia Power's head office in Jakarta. It was attended by Muljo Adji, Acting for President Director of PJB; Antonius RT Artono, Acting for President Director of IP at Indonesia Power; Naoto Yoshimura, General Manager for Special Task at MC; and MHPS Executive Vice President Ken Kawai.
The new agreement was reached through the meshing of the interests of all four parties concerned: MHPS and MC's desire to further strengthen their field services in this region, and PT PJB and Indonesia Power's quest for overseas business expansion using their own resources. Previously, in June 2014 the same four partners concluded a memorandum of understanding (MOU) relating to operation and maintenance (O&M) services for gas and steam turbines, and in this way the latest collaborative agreement serves to expand the scope of that earlier agreement.
PT PJB and Indonesia Power are both wholly owned subsidiaries of PT. PLN (Persero), Indonesia's state-owned power company. They were established in 1995 to provide power in the Java and Bali areas.
Going forward, MHPS aims to maintain and further develop its close relationships with PT PJB and Indonesia Power as a way of making positive contributions to stable and efficient power generation throughout the Southeast Asia region.
---