MHPS Opens Representative Office in Hanoi, Vietnam -- Move Aimed at Strengthening Information Gathering and Dissemination Capabilities to Attract Expanded Orders for Thermal Power Plants and Equipment --
Yokohama, November 7, 2016 -- Mitsubishi Hitachi Power Systems, Ltd. (MHPS) today opened a representative office in Hanoi, Vietnam's capital city. The establishment of this new base is targeted at attracting expanded orders for thermal power generation systems and air quality control systems (AQCS) from Vietnam, a country currently pursuing robust plans for expanded thermal power plants. The representative office in Hanoi will progressively strengthen its capabilities in gathering information relating to local development plans, especially relating to gas turbine combined cycle (GTCC), coal-fired, and AQCS installations, and in disseminating pertinent information to customers.
The newly established base was officially opened as the Hanoi Liaison Office of Mitsubishi Hitachi Power Systems Asia Pacific Pte. Ltd. (MHPS-AP), a wholly owned MHPS subsidiary situated in Singapore. To celebrate its opening, a ceremony was held on November 4 attended by numerous distinguished guests. These included: Phuong Hoang Kim, Deputy Director General of the Vietnamese Ministry of Industry and Trade's General Directorate of Energy; Katsuro Nagai, envoy of the Japanese Embassy in Vietnam; local representatives of the power and energy industry, trading companies, etc. Representing MHPS were: President and CEO Takato Nishizawa; Executive Vice President Ken Kawai, who is in charge of the company's Business Headquarters; and Executive Vice President Masao Ishikawa, who is MHPS-AP's Managing Director and CEO.
Under Vietnam's Revised Power Development Master Plan VII (PDP 7), a national power program announced by the Vietnamese government this year, between 2016 and 2030 the country is planning to build new thermal power plants with a total generation capacity of approximately 55,000 megawatts (MW). PDP 7 calls for infrastructure facilities of outstanding quality and environmental compatibility, with a focus on high-efficiency ultra-supercritical coal-fired plants and GTCC plants that contribute to curbing carbon dioxide (CO2) emissions. In response, an increasing number of the planned projects are receiving yen loans or involving the participation of Japanese companies. In addition, a trend toward environmental awareness has taken hold in Vietnam, resulting in expanding demand for flue-gas desulfurization and other AQCS equipment for installation primarily in existing coal-fired power plants.
Opportunities for MHPS to exercise its strengths are therefore now in a growth trend. The establishment of the new base and unification of information functions in Hanoi were decided in order to enhance the company's information gathering capability and to strengthen its ability to provide information to local customers, to proactively seek out promising new orders.
Going forward, through the new Hanoi representative office MHPS will respond meticulously to Vietnam's robust demand for power generation, and contribute to the country's economic development, with thermal power systems fully harmonious with the environment.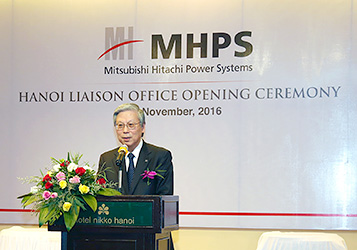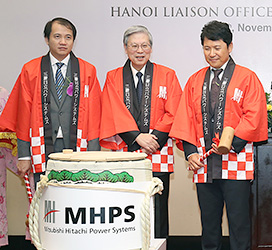 ---