MHPS and Takada Corporation Sign Memorandum of Understanding on Joint Development of Advanced Rotary Machinery Diagnostic System -- Aiming for More Advanced Equipment Diagnosis Capability Especially in Thermal Power Plants --
Mitsubishi Hitachi Power Systems, Ltd.
Takada Corporation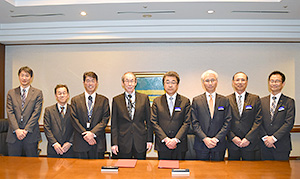 Yokohama, December 20, 2016 -- Mitsubishi Hitachi Power Systems, Ltd. (MHPS) and Kyushu-based Takada Corporation signed a memorandum of understanding (MOU) on joint development of an advanced system for diagnostically analyzing the operational data of motors and other rotary machinery. The collaboration targets the achievement of sophisticated rotary equipment diagnostic systems and related services by integrating Takada's technologies in measurement devices capable of diagnosing a machine's rotation status based on its electrical current signals, already commercialized, with MHPS's expertise accumulated through its experience in thermal power plant operational control and maintenance services.
Based on the newly concluded MOU, the two companies will seek improvement of Takada's presently available "T-MCMA (Takada Motor Current Multiplex Analysis)" system through joint development of both related hardware and software and collaboration in expanding the system's range of applications. In the T-MCMA system, dedicated current sensors are clamped to the electrical wiring of a rotary device, and in the event that an abnormality occurs, small changes in the current signals are detected, measured and analyzed in multiplex mode, enabling diagnostic analysis of the rotation conditions.
The targeted hardware improvements are to include miniaturization of the sensor clamps and reduction in the size of the housing unit. Software enhancements will primarily target system accommodation with cloud computing enabling use of multiple servers over the internet, and additional data output functions. In addition, MHPS and Takada will share data analysis and usage knowhow and jointly pursue the development of new diagnostic technologies and new services.
MHPS has been steadily increasing the digitization of power plants for several decades, introducing its digital solutions to the market step by step, and today offers a range of advanced, digitally-enabled major equipment for thermal power plants. The collaboration with Takada will enrich the MHPS digital solutions.
MHPS and Takada aim to propose that the T-MCMA system, once improved, be used for diagnosing auxiliary machinery such as the pumps and fans used in thermal power plants. The two companies also intend to seek new business opportunities in the form of diversified consulting services - not only for early diagnosis of malfunctions but also performance analysis, etc. - as well as services enabling maintenance cost cutting, and services to improve operating ratios through shorter planned shutdown times and longer intervals between regular inspections.
---