New Year's Message To Employees from the incoming MHPS President
Yokohama, January 5, 2017 -- On taking up his position as the new President and CEO of Mitsubishi Hitachi Power Systems, Ltd. (MHPS), Kenji Ando delivered the following remarks to the Company's employees:
"As the newly appointed President and CEO of Mitsubishi Hitachi Power Systems, it is my great pleasure to wish you all a very Happy New Year. On taking up my new position, I would like to outline my hopes and aspirations for MHPS during 2017 and beyond.
First, I ask that you at all times adhere closely to compliance regulations, while giving utmost priority to issues of safety, personal health, and the wellbeing of your families. I strongly believe that this will be a core foundation for each of you, and MHPS, to perform excellent work.
Second, in your business dealings, always give priority to the customer and the market. Start by acquiring a keen understanding of the current and future scale of the market; then study and analyze what the customer and market will require next. Based on your findings, draw up strategies for product development, design and after-sale service, and carry them out.
In my position as President and CEO, I see my primary duties as: winning the customer's satisfaction through the provision of outstanding products and services; making solid social contributions; and, in times of difficulty, overcoming our challenges so that we can win against our competitors. Achieving further growth will enable both the MHI and Hitachi groups to develop and bring happiness to all employees.
Today, the business environment surrounding the energy and environment field is quite severe, and our competitors are also making tireless efforts. But even the competitors who currently are outperforming us surely have a sense of crisis and are forming strategies for their future. They are surely considering which products have the potential to be mainstay products in the future; what the customer will require; and the feasibility of relying on the methods used until now. For this reason, we too must embrace the sense of crisis and make tireless efforts for our future's sake. The task that lies ahead is for all of us to unite in solidarity, and pool our wisdom and resolve, in order to overcome the severity of our business environment.
Continuous, sustained product development will be the Company's lifeline. We must consistently focus on which products the customer will strongly desire, and buy, three, five or ten years into the future - and develop those products. We must probe which products will be in the "premium market segment," and which will constitute breakthroughs and be winners in the market. To put it another way, we must think about which products can contribute to society, bring great benefits, and enable the Company's development and bring happiness to all employees. What is most crucial in other words is to create products that the customer will purchase.
The factors that will be absolutely essential for MHPS to survive, and thrive, in the global market will be: development of new mainstay products, integration of existing technological strengths, effective utilization of AI and IoT, and expansion of after-sale servicing operations.
MHPS is a linchpin of the MHI Group and, with the utmost determination, we must do everything we can to enable the achievement of targets set by MHI for this, the final year of the 2015 Medium-Term Business Plan. At the same time, we should proceed with insight and wisdom in formulating strategies for the forthcoming 2018 Business Plan.
Finally, absolutely essential at all times is "good communication." Maintaining good communication throughout the Company, in all aspects, will ensure that "work" will always be performed with enjoyment.
Looking ahead, we can expect the severity of our business environment to continue, creating challenges for us all. But it is precisely in times like these that we must all unite and pool our strengths. I believe that, even in difficult times, the essential element of "enjoyment" must never be forgotten.
In my new position, I will do everything within my power to support this, and I ask for your continued cooperation and contribution as, together, we take on the challenges ahead."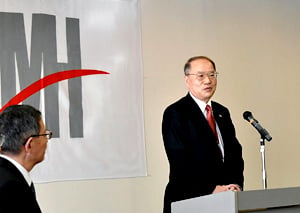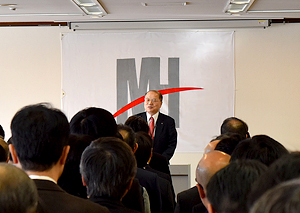 ---