MHPS Successfully Completes Testing of 74 Inch Last Stage Blade -- World's Longest Class Blades for Nuclear Steam Turbines --
YOKOHAMA, JAPAN (September 15, 2017) - Mitsubishi Hitachi Power Systems, Ltd. (MHPS) has successfully performed rotational vibration testing of a 74 inch (1,880 mm) last stage rotating blade (74IN LSB), bringing the blade's development process to completion. It is the world's longest class blades for nuclear steam turbines. The 74IN LSB expands MHPS's lineup of steam turbines, complementing the latest 54IN LSB (1,375mm), enabling the company to meet diverse customer needs and requirements.
MHPS began development of the 74IN LSB blade type ahead of other manufacturers, and has already completed various verification tests, including actual steam load testing. The rotational vibration test represents the final confirmation step in the blade development process.
The rotational vibration test uses a full-scale test rotor with a 74IN LSB, operated at nominal rotational speed. This is to verify the vibratory characteristics of the blades. Testing was performed at MHPS's high-speed balance testing facility, one of the world's largest facilities of its kind. The test results confirmed that the 74IN LSB achieved its targeted vibratory characteristics and can be operated safely.
Steam turbines using the 74IN LSB can be used at 1,200-megawatt (MW) class nuclear power plants - currently the most popular type globally - as well as larger nuclear plants exceeding 1,500 MW. When used in a 1,200 MW class nuclear plant, the 74IN LSB turbine enables greater power generation, compared to the 54IN LSB turbine, due to its longer blade length. Also, depending on the conditions of the plant's location, the number of turbine casings can be reduced from three (54IN LSB turbine) to just two (74IN LSB turbine), enabling space savings and simpler plant designs.
Going forward, MHPS will continue to provide safe and dependable high-quality steam turbines for nuclear power plants as its way of contributing to ever more stable energy supplies within the global market, economic development, and easing of environmental burdens.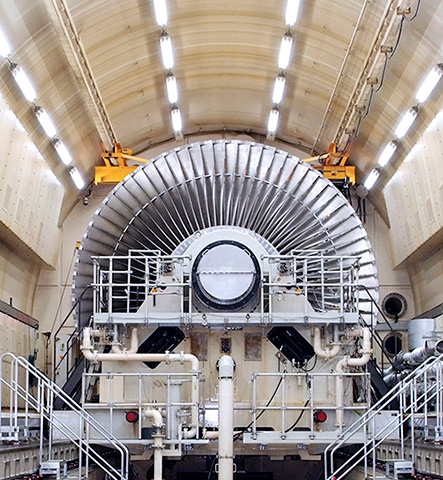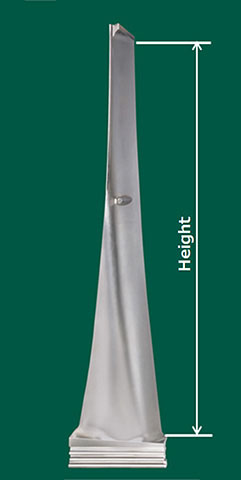 ---