Experience Power | HydrogeNext 2023
Monday, August 14 — Thursday, August 17, Savannah, Georgia
Experience POWER | HydrogeNext covers the full hydrogen energy value chain from production to distribution and end-use, bringing together power generation and chemical process industry professionals to collaborate and learn about the fast-paced advances being made toward a hydrogen economy.
---
Savannah Machinery Works Tour
Monday, 14 August
01:00 pm – 05:00 pm (EST)
Mitsubishi Power Savannah Machinery Works (SMW) is an ultra-modern advanced technology manufacturing facility located in the Edenic town of Pooler, Georgia. Just outside of Savannah, SMW manufactures advanced technology fuel-efficient gas turbines and steam turbines in addition to providing a suite of complete gas and steam turbine services. The facility has nearly half a million square feet in high-technology manufacturing space and equipment. In addition to world-class turbine manufacturing, SMW provides critical services to power producers throughout the Western Hemisphere. In June 2023, we celebrated the manufacturing and shipment of our 50th Advanced-Class Gas Turbine from our Savannah Machinery Works facility. This fleet is able to power over 3 million homes across 5 countries. Our tour, organized by Experience POWER, will highlight this amazing milestone, as well as give an inside view of SMW with ample opportunities for Q&As.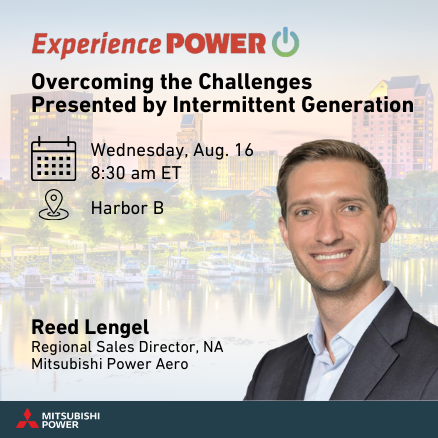 Overcoming the Challenges Presented by Intermittent Generation
Mitsubishi Power Aero
Regional Sales Director, North America
Wednesday, 16 August
8:30 am- 10:30 am (EST)
Power companies face numerous challenges as more renewable resources are added to the grid. Fast-starting options that can ramp up and down quickly, such as aero-derivative combustion turbines and reciprocating engines, have never been more important to operating a reliable and stable power system. Meanwhile, combined cycle units have other obstacles to overcome as operators try to maximize performance and minimize breakdowns. Many of the implications of growing renewables will be addressed in this session.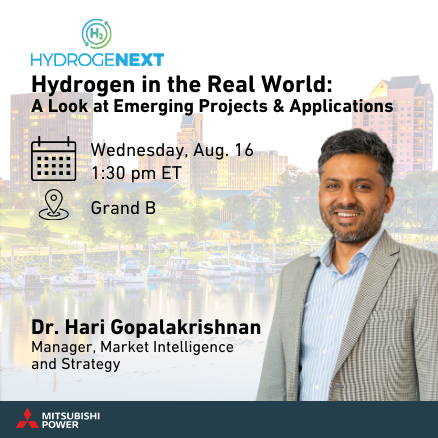 Hydrogen in the Real World - A Look at Emerging Projects and Applications
Mitsubishi Power Americas
Manager, Market Intelligence & Strategy
Wednesday, 16 August
01:30 pm – 03:00 pm (EST)
One of the keys to developing new industries is the opportunity to test technology. In this session, we will hear updates from several projects in the works. This session will showcase several projects that are currently underway to test and develop hydrogen technologies. We will hear from project leaders about the challenges and opportunities they are facing, and learn about the potential impact of these projects on the future of hydrogen energy.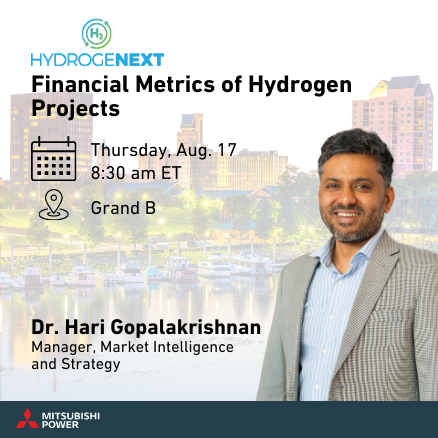 Financial Metrics of Hydrogen Projects
Mitsubishi Power Americas
Manager, Market Intelligence & Strategy
Thursday, 17 August
8:30 am - 10:00 am (EST)
Hydrogen is a clean, and versatile energy carrier with the potential to play a major role in decarbonization. However, in order for hydrogen to be adopted at scale, it needs to be financially viable. This session will explore the financial metrics behind hydrogen projects, including life cycle analysis, storage, transportation, and project viability. We will discuss the factors that make hydrogen projects successful, and provide insights into how to make your own project more financially attractive.