Reuters Hydrogen North America
Wednesday, October 11 — Thursday, October 12, Houston TX
The hydrogen economy is a once-in-a-generation opportunity for businesses in North America. Fueled through federal government tax credits, funding through the Inflation Reduction Act, and the Infrastructure Investment and Jobs Act, the enormity of the opportunity ahead is almost unfathomable. Only by uniting every major developer, investor, contractor, supplier, manufacturer, and policy maker, can we demonstrate hydrogen's commercial viability and achieve 1$/kg production by the end of the decade.
Seize the moment to decarbonize America's energy and hard-to-abate sectors at Reuters Events Hydrogen North America 2023, the hub for hydrogen's scale-up.

---
The Future for Clean Hydrogen
Wednesday, 11 October • Day 1
09:00 am 
Speaker Mike Ducker, SVP Hydrogen Infrastructure, Mitsubishi Power Americas, will kick off Reuters Hydrogen North America by sharing industry milestones and valuable contributions to scaling up the hydrogen Industry. Ducker will highlight essential market updates from Mitsubishi Power in the past year such as Takasago Hydrogen Park entering full-scale operation, and key construction milestones at the Advanced Clean Energy Storage project. This keynote session will include information for getting ahead of the market, with insight on how the industry plans to progress to clean hydrogen over the next year, and beyond.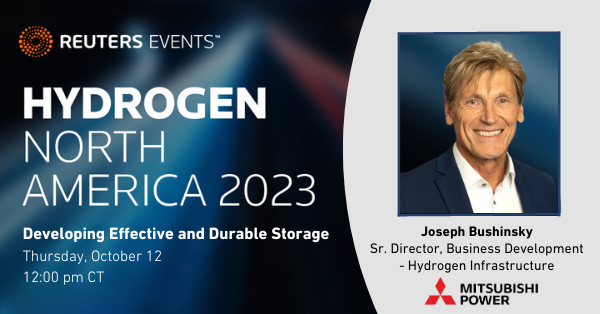 Developing Effective and Durable Storage
Joseph Bushinsky
Mitsubishi Power Americas
Sr. Director of Business Development, H2 Infrastructure 
Thursday, 12 October • Day 2
12:20 (CST)
Reliable, effective and durable energy storage is a key focus for many moving toward more sustainable energy solutions. Solving the critical challenge of storing hydrogen on the pathway to decarbonizing the United States will be addressed in this session, and exploring the commercial viability of various solutions, raging from geological hydrogen to materials-based storage.