Mitsubishi Power Named a Sub-recipient in Two Clean Hydrogen Hubs Announced by U.S. Department of Energy
• Pacific Northwest Hydrogen Hub (PNWH2) and HyVelocity Hub (Gulf Coast region) were selected by the US Department of Energy to develop two regional hydrogen hubs.
• As an industry leader in the development of large-scale infrastructure projects and hydrogen technology, Mitsubishi Power is paving the way for a cleaner energy future in the U.S. with its involvement in hydrogen hub development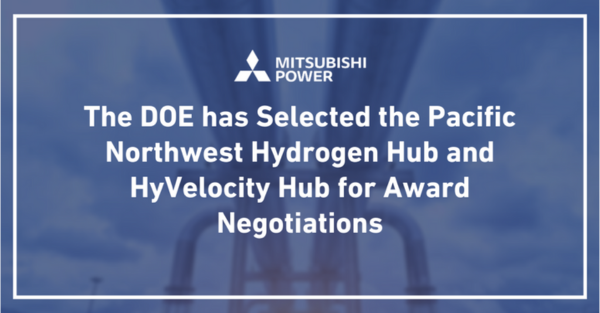 LAKE MARY, Fla., (October 13, 2023) – Mitsubishi Power Americas has achieved another significant milestone in the company's contributions to the development of world-class hydrogen hubs in the U.S. In response to the U.S. Department of Energy's (DOE) request for cross sector hydrogen-based decarbonization solutions, Mitsubishi Power is a sub-recipient in two hydrogen hubs that have been selected to begin award negotiations with the U.S. DOE Office of Clean Energy Demonstrations.
Last year, the DOE opened applications for a $7 billion program to create regional clean hydrogen hubs (H2Hubs) across the country, which, according to the DOE will form a critical arm of America's future clean energy economy. As part of a larger $8 billion hydrogen hub program funded through President Biden's Bipartisan Infrastructure Law, the DOE says the H2Hubs will be a central driver in helping communities across the country benefit from clean energy investments, good-paying jobs, and improved energy security – all while supporting the global goal of a net-zero carbon economy by 2050.
As part of the DOE's program, the Pacific Northwest Hydrogen Hub (PNWH2) and the HyVelocity Hub in the Gulf Coast region were in the initial 33 out of 79 proposals nationwide that were encouraged to proceed with the full application, from which seven would advance. Both have now been selected for negotiations with the potential to continue the development and implementation of utility-scale clean hydrogen production and deployment in their respective regions.
The Pacific Northwest Hydrogen Hub (PNWH2) aims to validate the DOE's vision of a national clean hydrogen network by serving as a vehicle for funding multiple projects that accelerate the transition to clean hydrogen energy production and use. The PNWH2 Hub concept envisions creating a dynamic Pacific Northwest network of clean, renewable hydrogen suppliers and end-users to decarbonize some of the hardest-to-abate sectors, such as heavy-duty transportation, aviation, maritime, agriculture, and industrial operations.
The HyVelocity Hub plans to rapidly scale clean hydrogen supply and demand along the U.S. Gulf Coast in Texas and Southwest Louisiana, and help deliver affordable, reliable, and abundant clean energy and well-paying jobs to local communities. The Gulf Coast is well situated for a clean hydrogen hub as it contains the world's largest concentration of existing hydrogen production assets, customers, and energy infrastructure, with a network of 48 hydrogen production plants and over 1,000 miles of dedicated hydrogen pipelines.
"The selection of these two hydrogen hub projects for award negotiations with the DOE is indicative of how the hydrogen economy is quickly developing and garnering support from both the public and private sectors," said Mike Ducker, Mitsubishi Power Americas senior vice president of hydrogen infrastructure. "With our reputation for excellence through the execution of the ACES Delta Hub, Mitsubishi Power is a major player in the development of hydrogen infrastructure projects and we stand ready to support these and other projects for a cleaner, carbon-free future." 
###
About Mitsubishi Power Americas, Inc.
Mitsubishi Power Americas, Inc. (Mitsubishi Power) headquartered in Lake Mary, Florida, employs more than 2,700 power generation, energy storage, and digital solutions experts and professionals. Our employees are focused on empowering customers to affordably and reliably combat climate change while also advancing human prosperity throughout North, Central, and South America. Mitsubishi Power's power generation solutions include gas, steam, and aero-derivative turbines; power trains and power islands; geothermal systems; PV solar project development; environmental controls; and services. Energy storage solutions include green hydrogen, battery energy storage systems, and services. Mitsubishi Power also offers intelligent solutions that use artificial intelligence to enable autonomous operation of power plants. Mitsubishi Power is a power solutions brand of Mitsubishi Heavy Industries, Ltd. (MHI). Headquartered in Tokyo, Japan, MHI is one of the world's leading heavy machinery manufacturers with engineering and manufacturing businesses spanning energy, infrastructure, transport, aerospace, and defense. For more information, visit the Mitsubishi Power Americas website and follow us on LinkedIn.
---