Overview
---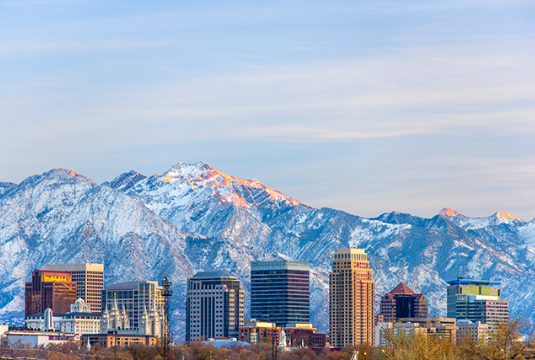 A Dream Project Has Begun, Aiming for Power Generation Using Only Green Hydrogen
The state of Utah is located in the western United States, one of the Four Corners states with Arizona to the south, Colorado to the east, and New Mexico to the southeast. The state is known for its natural diversity and clean air. The largest city in Utah, Salt Lake City, is in close proximity to the Great Salt Lake, and became famous as the site for the 2002 Winter Olympics. The area has been known for salt production. Utah also has traditionally been known for livestock production, farming and mining. More recently, it has become home for a number of prestigious aerospace companies, which have grown up around Hill Air Force Base. The tech industry has also been expanding in Utah, attracted by the area's high quality of life, low crime rate and encouragement of the entrepreneurial spirit.
The Intermountain Power Agency (IPA) owns a power plant about 140 kilometers south of Salt Lake City. In the 1980s, IPA constructed the coal-fueled Intermountain Power Plant (IPP) in the Utah desert as a new power resource for project participants serving parts of six states, including fast-growing southern California. IPP's total electricity generating capacity is about 1.8 GW, with a large portion of the plant's output consumed in California. In a series of actions, the California State Legislature effectively outlawed consumption of coal-fueled electricity and required 100% of the state's power generation to be carbon-free by 2045. In response to this and other market and regulatory forces affecting coal, IPA embarked on its transformative IPP Renewed project.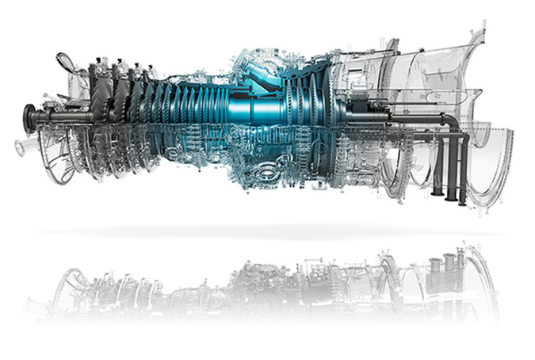 Under IPP Renewed, coal-fueled generation at the Project will cease in 2025 and new hydrogen-capable natural gas-fueled generation will start up. IPA selected Mitsubishi Power in March 2020 to supply the gas turbine combined cycle (GTCC) component of the project. An 840 MW class GTCC plant using a 30% hydrogen fuel mix (by volume) will start up in 2025, increasing the hydrogen percentage to reach carbon-free 100% hydrogen generation no later than 2045.
Outcomes
---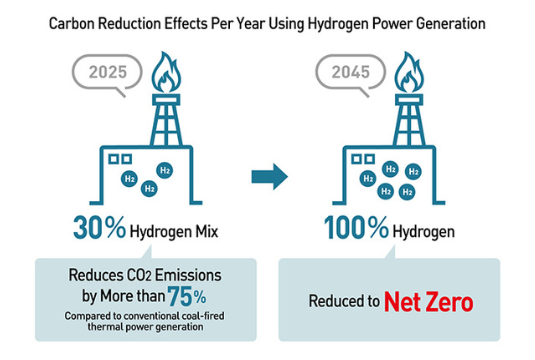 Making a Net Zero Carbon Power Plant a Reality by 2045
The IPA project uses a fuel mixture with 30% hydrogen and 70% natural gas, which will reduce CO2 emissions from power generation by more than 75% compared to conventional coal-fired thermal power generation. The plan is to increase to 100% hydrogen and achieve zero CO2 emissions by 2045. Further, we plan to use "green hydrogen" produced by electrolysis of water using renewable energy, such as solar and wind power, as fuel for this GTCC plant.
Hydrogen can be produced using a variety of energy sources. When it is produced using fossil fuels, carbon is emitted in the process. Green hydrogen is produced without carbon emissions, so the IPA power generation process will be carbon free, from fuel supply production to final power generation.
Since the 1970s, we have delivered gas turbines to around 30 power plants that use hydrogen as fuel, and the total operating time has reached more than 3.5 million hours. With the world's most advanced hydrogen combustion technology, we continue to contribute to the realization of a hydrogen society, where a stable supply of electricity and a carbon-free world are both entirely possible.
Solutions
---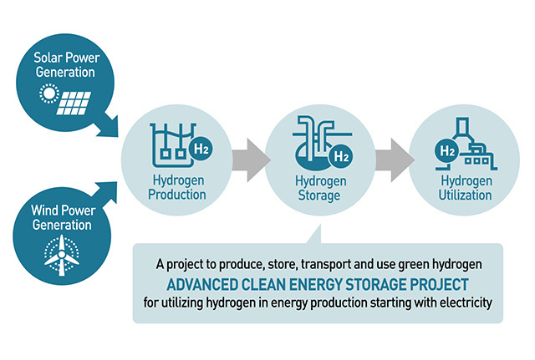 One-Stop Services from Hydrogen Procurement to Construction and Maintenance of Power Generation Facilities
For this project, Mitsubishi Power will provide two M501JAC gas turbines from our Takasago Machinery Works (in Takasago City, Hyogo Prefecture, Japan), two steam turbines and two generators from our Hitachi Factory (in Hitachi City, Ibaraki Prefecture, Japan). Our U.S. subsidiary will support delivery as well as procurement of additional equipment and accessories.
We will increase the amount of hydrogen in the fuel mix in stages as part of a 20-year long-term service agreement (LTSA). The hydrogen for power generation will come from the Advanced Clean Energy Storage Project, which we are developing jointly with Magnum Development Co., Ltd. to produce, store, transport and use green hydrogen. We plan to develop 1,000 MW of electrolysis facilities to produce green hydrogen that will be held in the world's largest facility for storing energy from 100% renewable energy sources. This facility will employ solution mined geologic salt caverns, which utilize technologies that have been widely deployed in the U.S. Gulf Coast and elsewhere for decades. The facility will use a 220 MW water electrolysis unit to produce up to 100 tons of green hydrogen per day, which will be used to fuel the GTCC plant for IPA.