Overview
This is a compact flame detector created by combining the proven IR-S type flame detector and the DIASYS Netmation automatic burner control unit series.
Features
Compact Body Suitable for Small Boilers
The module unit is an easy DIN rail mount type, and a housing panel is not required.
Its compact size makes it suitable for a boiler with a small number of burners.

Suitable for a Variety of Fuels
The flame detector can be used for gas, fuel oil or coal.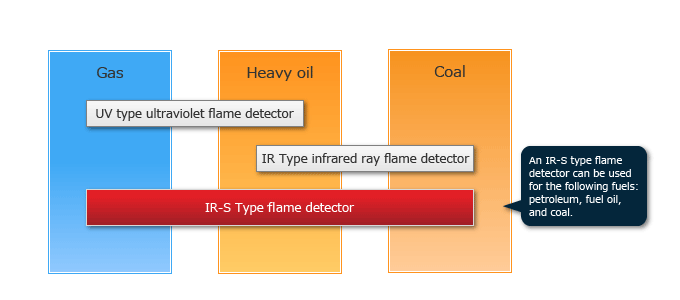 High sensitivity design
High sensitivity to the intensity of flame enables stable detection of the burner flame. The flame is detected through the unlit zone.
Extended detection range
The sensor has 100 times dynamic range of a conventional product and allows stable detection from slow combustion to a high intensity flame. No sensitivity adjustment is required for the sensor at the site.
Maintenance free
A ball lens is used to eliminate the need to clean the sensor window during boiler normal operation.
Long-life sensor
Because a long-life infrared semiconductor sensor element is used, periodic replacement is not necessary.
System Configuration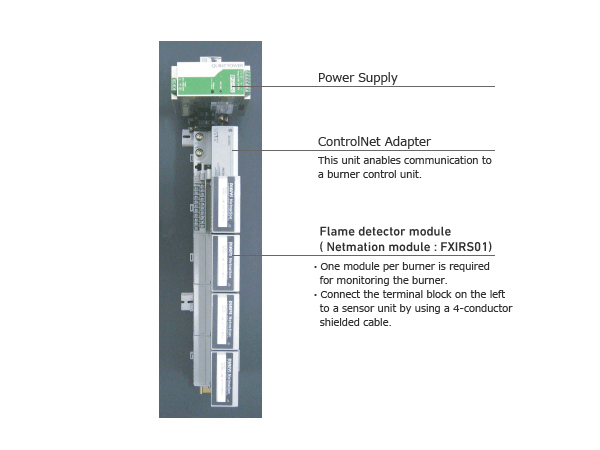 Rail Mounting Net IR-S
FXIRS01
This is a dedicated flame detector functional module.