Steam Turbines for Industrial Plants
The following types of steam turbines are available for private/thermal power generation plants.
Modular Design (MD) Concept
Small/mid-sized steam turbines are designed based on a modular design (MD) concept in which standardized modules for turbine components, such as governing valve chests and low pressure exhaust casings are employed. These standard MD modules are selected according to turbine application requirements and combined to form a robust and highly reliable turbine design to meet the customer' s needs.
(Example) Extraction Condensing Turbine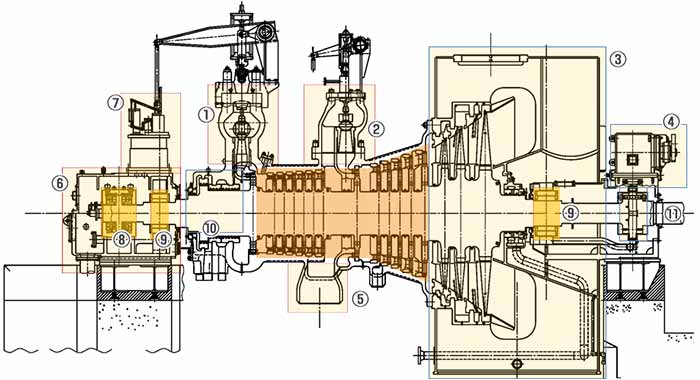 Governing Valve
Extraction Control Valve
Exhaust Casing
Turning Equipment
Extraction Nozzle
Bearing Pedestal
Valve Servo Cylinder
Thrust Bearing
Journal Bearing
HP Gland Casing
Turbine-generator Coupling